About Us
Together, Graphic Group Studio and Strategic Planning & Communications work as a singular and full-service agency offering strategic and tactical planning, development, implementation, management and tracking of appropriate marketing communications vehicles designed to reach key target audiences.
Integrated communications, not only optimizes marketing effectiveness and cost efficiency, but also heightens immediate brand recognition by maintaining synergy (visual, messaging, tone) across all communication elements. Every project embodies the concept of integration, whether it's a single flyer or multi-media campaign.
Our companies are staffed with seasoned professionals, most of who have over 15 years of experience in their respective disciplines, having held senior management positions for well-known advertising agencies.
Click on our names above for a bit of background on our professional history.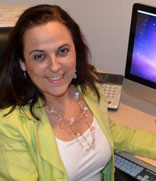 Debbie Greco Cohen
Prior to starting her own agency, Debbie spent 17 years at well-known advertising agencies in Manhattan. She began her career at Ally & Gargano, managing advertising accounts MCI, Timberland, Bryan Foods, Acutrim and Sun Banks. At Young & Rubicam, Debbie managed sales promotion programs for Cato Johnson, then integrated communications for Young & Rubicam. While at Y&R, Debbie worked on the U.S. Army and U.S. Postal Service accounts. At Ogilvy & Mather, she managed integrated marketing initiatives for IBM and American Express. She then managed integrated communications programs for Bell Atlantic at The Lord Group.
Aside from having extensive experience managing fully integrated multi-media campaigns for some of the largest advertisers in the world, many of the campaigns she managed led to record revenue or response achievements.
Debbie continues to apply the same strategies and practices to her somewhat smaller clients as she did with her multinational ones, albeit using more conservative budgets. Her feeling that all clients deserve the highest level of devotion and strategic vision regardless of size has served her and most definitely her clients very well.
Debbie graduated from S.U.N.Y. at Old Westbury with a B.S. in Business Administration in 1982. She serves on the board of several organizations, including the Executive Board of the Port Washington Chamber of Commerce and was elected 2005 Small Businessperson of the Year for Port Washington by the Nassau Council of Chambers of Commerce.
In the bit of spare time Debbie finds, she loves to sail and entertain way too much according to her husband (the entertaining, not sailing, which is her husband's sole hobby).