About Us
Together, Graphic Group Studio and Greco Integrated Communications work as a singular and full-service agency offering strategic and tactical planning, development, implementation, management and tracking of appropriate marketing communications vehicles designed to reach key target audiences.
Integrated communications, not only optimizes marketing effectiveness and cost efficiency, but also heightens immediate brand recognition by maintaining synergy (visual, messaging, tone) across all communication elements. Every project embodies the concept of integration, whether it's a single flyer or multi-media campaign.
Our companies are staffed with seasoned professionals, most of who have over 15 years of experience in their respective disciplines, having held senior management positions for well-known advertising agencies.
Click on our names above for a bit of background on our professional history.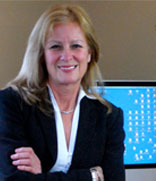 Debbie Billings Kossoff
Debbie Kossoff is founder and Creative Director of Graphic Group Studio, which has been providing full service graphic design and production management for over 20 years. A passion for great design has been foremost in producing successful campaigns for consumer as well as business-to-business companies. She has extensive creative expertise in a wide range of disciplines, including branding strategy, brand identity, web design, packaging, retail and integrated marketing with accompanying visual messaging products.
Debbie has led a team of professionals in the creation and production of many complex projects, including the design and production of many 150+ page catalogs for a major packaging company, for which she also served as project manager for over 15 years.
She played an integral role in the launch of an extensive consumer branding campaign for a line of bedding products sold nationally by major bedding retailers. On the corporate level, she led a rebranding campaign of a highly renowned, global engineering firm, resulting in collateral, recruitment materials and web site redesign.
Graphic Group Studio provides the same high quality, strategically sound graphic design and production management as large advertising agencies offer at a fraction of the cost. The fact that she owns and manages her company also means she, her business associates and staff, demand the utmost quality for all of the clients they serve.
When Debbie is not working, her passions beyond advertising creative are many, she is an avid sailor on the Long Island Sound and points east. Debbie is also very passionate about painting classic realism, mainly still life. Her next endeavor in painting is, as she entitles it, the final frontier of painting, plein air landscape.